Shuttle System Details
Google Map for Waipā Park & Ride

GPS coordinates: 22.201069, -159.510416

Shuttles run 6:20a to 6:40p every

20 minutes

from Waipā Park & Ride to Hā'ena State Park.

You are guaranteed seating at

your reserved departure time

. See

Info Page

for guidance to ride standby.

MUST CHECK-IN at Waipā Park & Ride

. See Info Page to request

check-in / boarding elsewhere.

Ask for guidance when you check-in if you plan to get off/on at multiple stops during your ride.
Carefully review Info Page to ensure awareness of policies

and

safety/trail warnings

.

NO Princeville shuttle (Hanalei Hill landslide repairs phase 2 begins late 2023).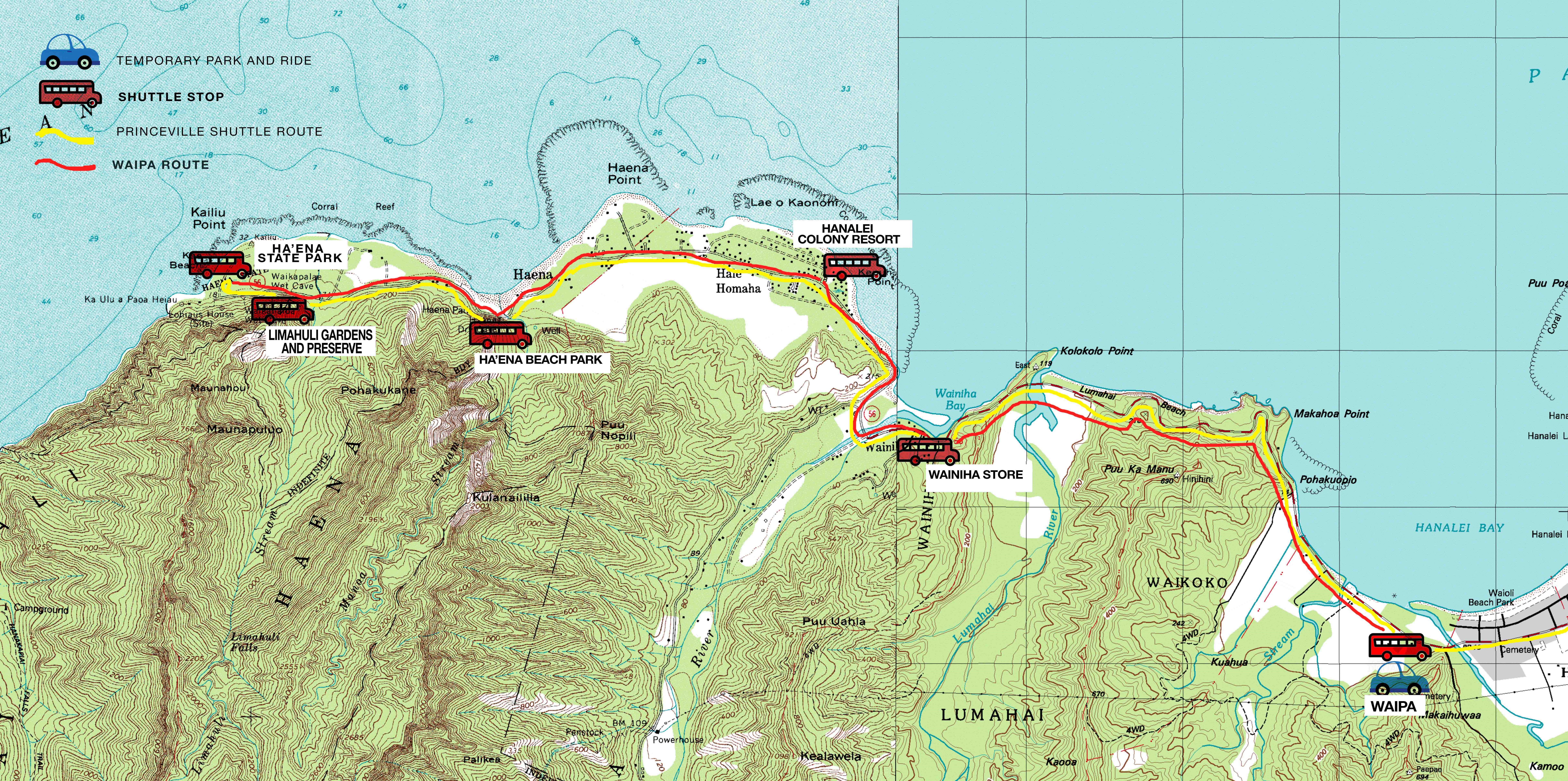 Shuttle Stop Route Map  
*Total travel time for entire route is 30 minutes each way.
SHUTTLE SCHEDULE
6:20a – 6:40p: Shuttles run every 20 minutes daily.
6:40p is LAST PARK PICK UP DAILY for summer.
How do I find the shuttle stop locations?
VISITORS
To visit Hā'ena State Park (includes Kē'ē Beach, Kalalau Trail to Hanakāpī'ai Beach or Waterfall) or Hā'ena Beach Park (Makua Lagoon / Tunnels Beach), purchase a shuttle reservation which includes Hā'ena State Park entry. If you already have a Kalalau overnight camping permit, review the camping section on our Info page first.
RESIDENTS
If you are a resident of the State of Hawai'i with a valid ID you may ride the shuttle for free in two ways: from Hā'ena towards Waipā in the morning from 7:00 am – 12:00 noon, or from Waipā towards Hā'ena in the afternoon from 12:00 pm – 5:00 pm. Seating is first-come first-serve, space permitting.
The "Waipā" loop runs from the Waipā Park & Ride to Hā'ena State Park and back to Waipā. The list of stops starting at Waipā is as follows: Waipā Park & Ride, Wainiha Store, Hanalei Colony Resort, Hā'ena Beach Park, Limahuli Garden, Hā'ena State Park (including Kē'ē Beach and Kalalau Trail).